This beef summer sausage is so yummy! It has the most perfect blend of savory spices. This "beef stick" is part of our families Christmas tradition. When we aren't in the mood for a big meal, or don't have time to cook, this always hits the spot! 
My friend, Jewel, told me that she always makes this Beef Stick to share with her neighbors at Christmas time. Since I had about four freezers full of beef, and I bought beef stick, I was intrigued.  I told my mom how excited I was to try it and she told me that my grandma used to make the exact same thing!
I love making as things myself. It's always better when it's homemade. Jewel was kind enough to share the recipe with me. I tried it. And let's just say that I will never go back to buying Beef Summer Sausage in the store again! This stuff is amazing! I was surprised at how easy it was to make. And I love that it doesn't have artificial preservatives in it! 


We love eating it with cheese and crackers, lots of different kinds of cheese! It pairs perfectly with lots of fresh fruits. It's one of our favorite things to eat while we watch football or the National Finals Rodeo (which we are addicted to!) I guess you could say it is our TV food!

Mix lean ground beef and Morton's  Tender Quick Curing Salt together and refrigerate over night.
The next day add liquid smoke, course black pepper and garlic salt into the ground beef.
NOTE: I had to look at several stores before I found this curing salt. You might want to check online.
Divide into quarters. You can use a scale if you really want to be exact. I just divide the beef into quarters in the bowl and try to keep them pretty even.
Shape the dough and press into four "logs". Set one "log" on a piece of plastic wrap.
Wrap the plastic around the beef stick like you a Tootsie Roll is wrapped up.  Use your hands to roll the beef stick, kind of like you would roll a rolling pin. I try to compress the beef and shape it into a perfectly round stick. Does that make sense?
I have found that if I hold my hand with my thumb and middle finger touching it makes the perfect sized beef stick. It fits on crackers just right. Keep rolling it and shaping it until it looks good to you. Repeat with other three balls of meat.
This is the method I found that works best for me. You may find something else that works for you!
Carefully set each beef stick on a roasting pan. If you don't have one I'm sure you could use a jelly roll pan and a cooling rack.


Bake at 225 degrees for 4 hours. The beef stick will create it's own little "casing", although it's technically not a casing! Your house will begin to smell amazing.
When I make beef stick I usually freeze a few sticks for later. Sometimes I need something quick to satisfy my family. My kids enjoy it in their lunches instead of the usual sandwiches too.
We actually enjoy it throughout the year! But it is a must have during the Christmas Holidays! You should make it and then eat it while you watch the NFR tonight!
Beef Summer Sausage
Ingredients
4 lbs. lean ground beef
¼ c. Morton's Tender Quick Curing Salt
2 TBSP. Liquid Smoke
2 tsp. course black pepper
1 tsp. garlic salt
Instructions
Mix ground beef and Morton's Tender Quick Curing Salt. Refrigerate overnight.
The next day add liquid smoke, black pepper and garlic salt. Mix together.
Shape into 4 equally sized logs.
Set on broiler pan. Bake at 225 degrees for 4 hours.
Cool. Refrigerate or freeze. Slice and serve with cheese and crackers.
NOTE: I use heaping amounts of pepper and garlic. And a little extra liquid smoke. I like it a little spicy!
 Linked to these parties: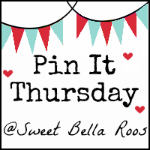 http://www.bunsinmyoven.com/