This shop has been compensated by Collective Bias, Inc. and its advertiser. All opinions are mine alone. #StockUpWithPost #CerealAnytime #CollectiveBias
No Bake Peanut Butter Cup Cookies are the ultimate quick and easy cookie! They are packed with plenty of chocolate and peanut butter in every irresistible bite!
I can't even tell you how much my family dreads going back to school. In the first place we are still crazy busy on the farm and we can hardly manage to get all the work finished up without the kids help. Second of all, I would much rather do jobs on the farm with my kids than try to teach algebra to them. It's so hectic. Can anyone else relate?
My 4th grader is going to start playing football this year which adds one more carpool, and one more activity to the list. It kind of makes me start to stress just to think about it all. So for now let's just focus on No Bake Peanut Butter Cup Cookies okay?
No Bake Peanut Butter Cup Cookies are just right for back to school!
Since these cookies are no bake and only require a handful of ingredients they are seriously quick and easy to whip up; much faster than studying spelling words!
You are going to need a bag of Malt-O-Meal Peanut Butter Cups cereal to make these cookies. If your family is anything like mine you are already consuming lots of cold cereal during the hot summer months when Mom just doesn't feel like cooking! Besides making a quick and easy breakfast I use them as an ingredient in other recipes all the time!
Aisle 8, the cereal aisle, at Walmart is one of my favorite places to stock up! There are over 33 varieties of Malt-O-Meal cereal so there's sure to be a variety that will satisfy everyone. They come in a variety of sizes and they are a value buy which is especially important when I already feel like I'm spending plenty of money getting everyone ready to go back to school!  Besides that, did you know that Malt-O-Meal stands behind all their products? That's right! If you don't love it, it's free! How awesome is that?
My kids love all the PEBBLES™ cereals so I had to try the newest way to make mornings rock; Cinnamon PEBBLES™ (THE FLINTSTONES and all related characters and elements copyrighted & Hanna-Barbera).  Malt-O-Meal Marshmallow Mateys® are always a popular choice too, and since they come in a handful of sizes I grabbed a big bag of those!
To check out all the fun varieties of Post and Malt-O-Meal Cereal check out the POST page or head over to their Pinterest page for more fun ideas!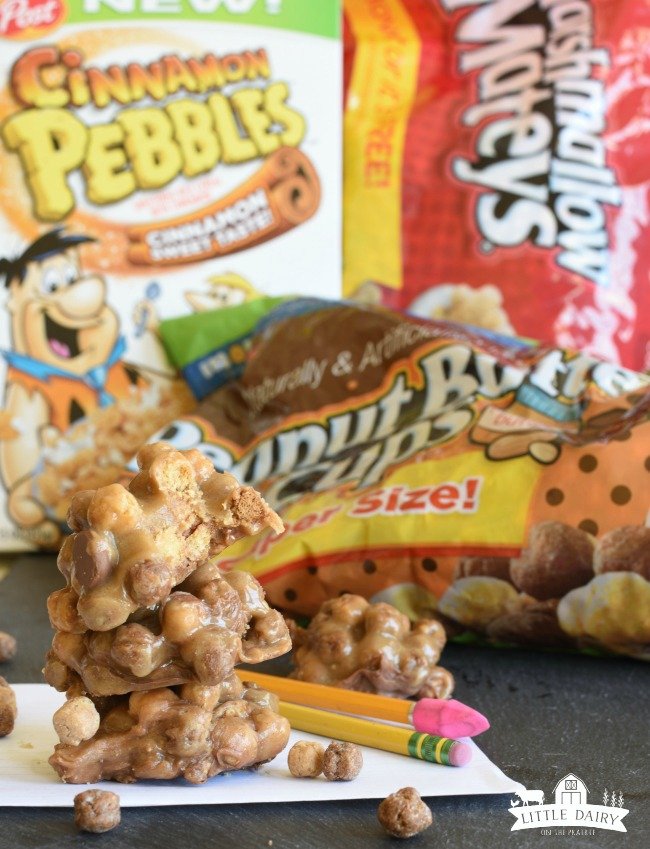 Need to stock up on cereal for your family? Want to make this and other quick recipes using these cereals? Hover over the photo above to shop for these versatile cereals!
Earn $1 or $.25 cashback when you purchase some of Post newest additions with these  Ibotta offers.
Make sure to check out more exciting offers for other Post cereal varieties like Shredded Wheat!
Let me show you how easy it is to make No Bake Peanut Butter Cup Cookies!
Before you start cooking you are going to want to measure cereal, chop peanut butter cup candies, and line a baking sheet with wax paper. Once you get the cookies made they set up pretty fast so you want to be ready to start scooping them right away!
Cook peanut butter, sugar, and corn syrup over medium heat melt just until it's melted.
Add cereal. Stir.
Add chocolate chips and peanut butter cup candies. Gently stir.
Next, using cookie scoop drop cookies onto baking sheet.
Let cool.
That's all there is too it!
No Bake Peanut Butter Cup Cookies hold up in lunch boxes!
These cookies really are the perfect after school snack and a great treat to add to the kid's lunch boxes since they don't crumble and break apart like some cookies.
Just be sure to hide a few for you! Moms need treats too…especially to get through all the chaos of back to school! All that clothes shopping, and supply shopping, and trying to fit it all in the budget wears moms out too! Heck, I hide a few for dad too! 🙂

No Bake Peanut Butter Cup Cookies
No Bake Peanut Butter Cup Cookies only take a few simple ingredients and a few minutes to make. They have crunchy peanut butter cup cereal and chocolate tossed in a divine peanut butter base! These cookies are awesome for packing in lunches since they don't crumble!
Recipe type:
Dessert, Cookies
Ingredients
1¼ c. peanut butter
1 c. sugar
1 c. light corn syrup
1 tsp.vanilla
4 cups Malt-O-Meal Peanut Butter Cups Cereal
1 c. chocolate chips and/or chopped peanut butter cup candies
Instructions
Line a baking sheet with wax paper.
Measure cereal in a large measuring cup or bowl. Set aside.
Melt peanut butter, corn syrup, and sugar over medium heat only until melted and combined.
Remove from heat and add vanilla. Stir.
Pour cereal into peanut butter mixture. Stir.
Add chocolate chips/peanut butter cups. Gently stir. They will start to malt so if you stir too much they will completely melt into the cookies instead of having whole pieces of chocolate.
Using a cookie scoop drop cookies on prepared baking sheet. If desired you can sprinkle the tops of cookies with sea salt. It's yummy!